Smart Bedside Bedwetting Alarm
$89.99 – $119.99
SAVE $5 WITH COUPON CODE: FIVESMART 
In Stock. Qualifies for FREE SHIPPING.
Smart™ Bedside Bedwetting Alarm is a perfect system to stop bedwetting permanently for teenage and adult bed wetting
This bedwetting alarm comprises of a beside alarm and urine detection bed mat which is placed in a cloth mat sleeve and put below the bed sheet
Compact, microprocessor controlled alarm unit automatically cycles through 8 tones to avoid auditory accommodation (i.e. getting used to one tone)
Alarm has 3 modes of operation – sound only, vibration only and sound and vibration
21"x17" One Drop Detection bed mat is hypoallergenic and non-corrosive, comes with a 10-foot long cord to help place the alarm unit on the bedside
Plastic mat can be cleaned and reused in seconds. Cloth mat sleeve is machine washable and dryer friendly
Smart Bedwetting Alarm is FDA Registered and CE Certified. Comes with a 1-year warranty
| | | |
| --- | --- | --- |
| Recommended for: | Teens | Adults |

Play Alert Tones

Why buy from us
Be Smart – Get Smart and stop nighttime bedwetting the comfortable way in just a few weeks.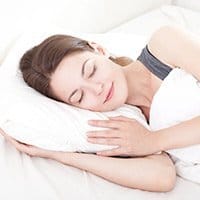 Best Bedwetting Alarm for Teenagers and Adult Bed WettingSmart Bedside Bedwetting Alarm is ideal to stop teenage bedwetting and monitor adults who wet the bed. This enuresis alarm is slim and sleek and delivers fast results all with the comfort you need. The One Drop Detection Mat will detect urine and trigger the alarm to wake the user. This Smart alarm also offers a discreet mode to help teenagers and adults use it at home or when travelling. Smart alarm offers the best bedwetting solution without any medication or treatments.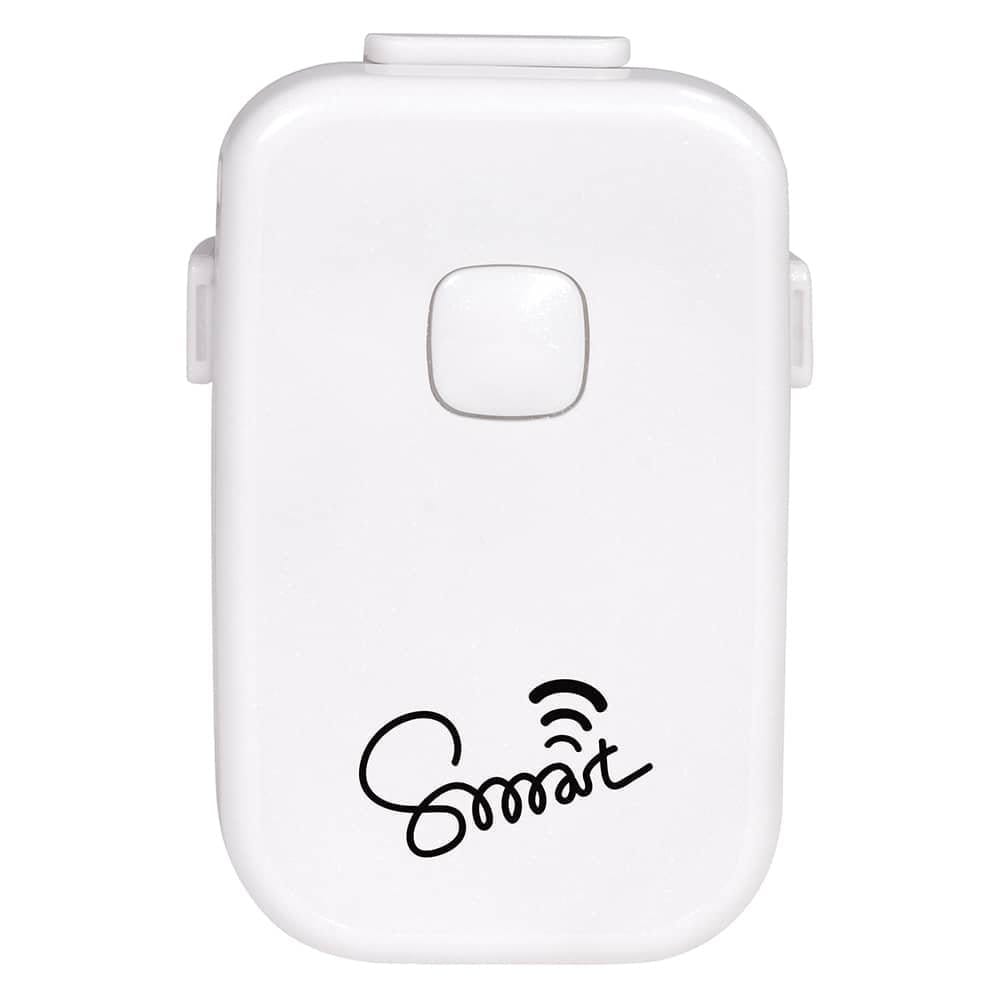 All-in One Bedside Bedwetting AlarmSmart is an alarm with a brain. The alarm automatically cycles from its 8 loud tones to wake the bedwetter upon detecting the first drop of urine. The user can choose to get alerted from an option of sound only, vibration only or sound and vibration together. Multiple tones on this alarm will help avoid auditory accommodation i.e. getting used to any one tone.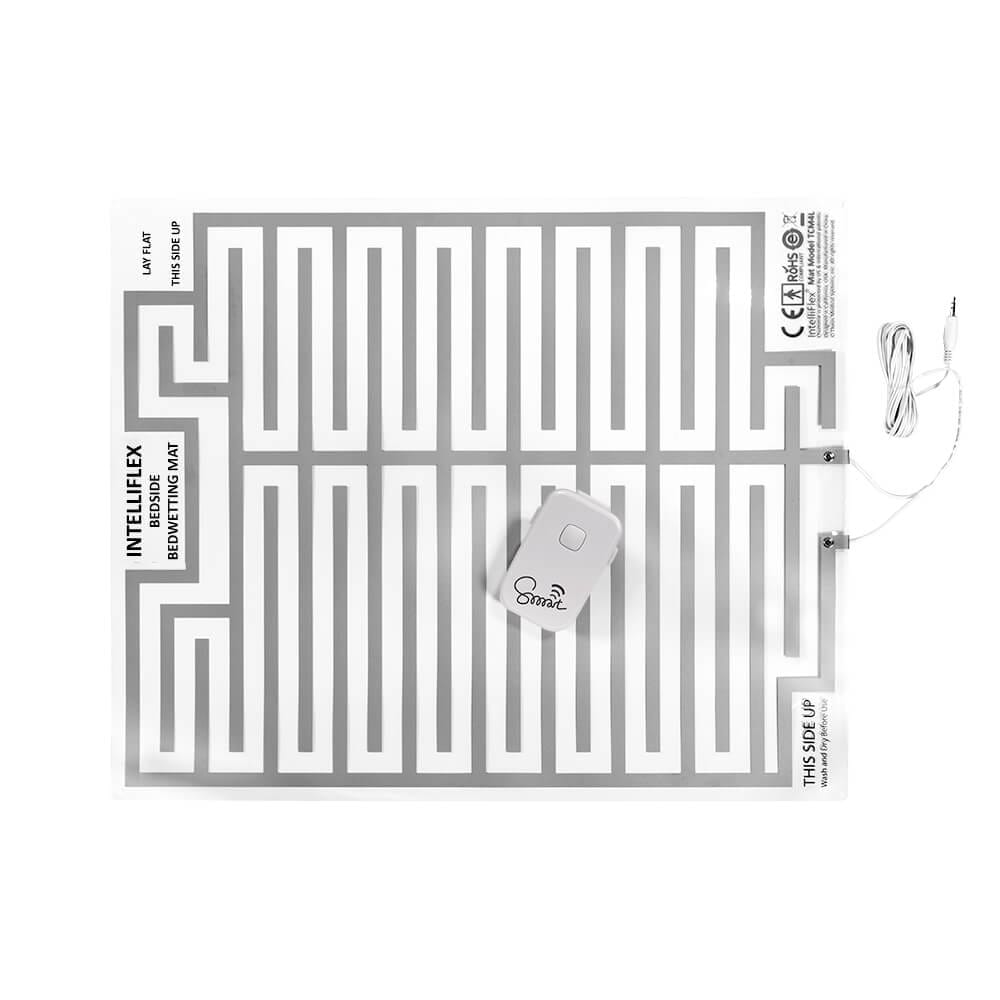 One Drop Detection IntelliFlex MatThis alarm is intended to provide maximum treatment without compromising comfort. Simply place the 21 inches x 17 inches mat in the enclosed sleeve (provide with the alarm), then place it under the bed to start monitoring bedwetting. The 20 urine sensing strips detect urine on the first drop and alert the user to wake up sooner. The IntelliFlex mat is reusable, non-corrosive, safe and non-toxic. One size fits all age groups and is recommended for adults and teenage bedwetting.
Experience the Powerful MicroprocessorGet enhanced safety and reliability with the small yet powerful microprocessor. This bedwetting alarm system features a unique 2-step shut off system to help the bed wetter wake up and clean up after a bedwetting accident. Simply choose your preferred settings on the alarm and place it on the bedside. Then put the bed mat below the bedsheet. Connect the mat to the alarm with the 10-foot long cord (included with the alarm). The bed mat will detect urine and trigger the alarm with the preferred settings to wake the user. Overtime the bedwetter will wake sooner and sooner teaching them to stay dry through the night.
Free Smart AppSmart APP is specifically designed to offer you quick and handy solutions. You can easily access Smart alarm videos, tips, FAQs, blogs, special offers or reach our award winning support team and much more simply from your phone or tablet. Smart APP can be accessed from any smart phone browser. Instructions will be sent to your email address within 24 hours of placing your order.

Box Contents:Smart bedside alarm unit, IntelliFlex Mat, reusable washable mat sleeve, snap-on clip, 10 foot long cord, alarm stand, user manual, 2 AAA batteries.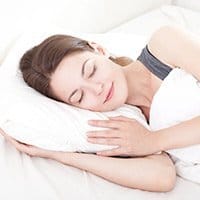 Easy to Set Up
Place the IntelliFlex mat in the enclosed washable, reusable sleeve. Place under a dry cotton sheet and connect it to the Smart bed-side Bedwetting Alarm with the 10-feet-long cord.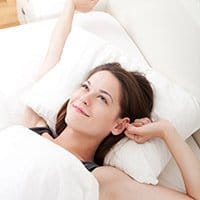 Wakes up the Deepest Sleeper
Unique pending technology allows the bed mat to detect the first drop of urine. Upon detection the bed mat triggers the alarm that beeps with loud sounds, bright lights and strong vibration to ensure the user wakes up sooner.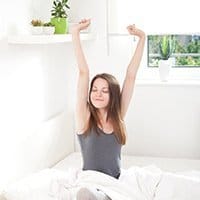 Stops Bedwetting Permanently
In a few weeks, the user wakes up to the alarm sooner, gradually recognizing the need to empty the bladder at night and achieving dryness.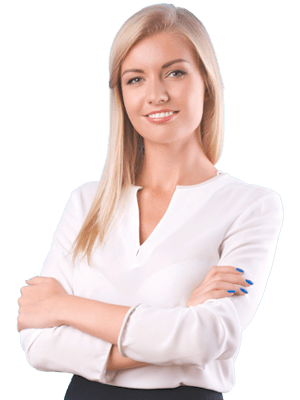 Smart bedside is ideal for teens and adults who want to stop or monitor their bedwetting. Unlike wearable sensors which attach to the outside of the underwear, this alarm comes with a mat. Simply insert the mat in the sleeve (provided) and place it below the bedsheet. Upon detecting urine, the mat will trigger the alarm to alert the user to wake and clean up after an accident.
Smart is an alarm with a brain. The alarm is built on a two-step shut off system to help bedwetters wake up and clean up before going back to bed. Although the battery life is extremely long, the alarm has a low battery detection system built in. A good to have feature for those who prefer to monitor their bedwetting on an ongoing process. Smart can also be used for those with special needs. Many special needs children don't prefer to use an alarm with wires and cords on their bodies. For that reason, we recommend the use of a bedside bedwetting alarm.
The One Drop Detection urine bed mat is 21" x 17" and comes with a 10-foot-long cord to help place the alarm on the bedside with ease. This bed mat uniquely designed with 20 stirps to help detect urine in seconds. It is non-corrosive and one size fits all age groups. This bed mat can be easily rolled up and stored when not in use.
For added comfort, this smart bedside alarm can be coupled with waterproof bedding which can be purchased separately. Call our toll-free number at (800) 230-6775 to order over the phone now.
Manufacturer
Theos Medical Systems, Inc.
Alarm Type
8 Selectable Tones, Strong Vibration and Bright Lights
Sensor Type
Revolutionary One Drop Detection™ Technology Mat
Alarm Dimension (Approx)
Alarm unit – 2.6″ x 2.1″ x 0.7″
Sensor Dimension (Approx)
10 foot long cord. Mat dimensions – 21″ x 17″ x 0.1″
Batteries
2 AAA Batteries (included)
Product Series
TSV55 Series
Color
Pearl
Alarm Special Instructions
As per instructions, wash the bed mat after every bedwetting accident. Good to have a spare bed mat to restart immediate treatment at night.
Mobile App
Free Smart App with Award Winning Customer Support
Warranty
1 year manufacturers limited warranty on Alarm Unit
90 Days manufacturers limited warranty on Mat
Customer Support
Email, Phone or Live Chat with a Bedwetting Specialist
Order by Phone
Help placing an order, with a live representative. Call (800) 230-6775
FAQ for Smart bedside alarm
My son pees multiple times a night. Are there extra sensor mat I should buy?
You can buy extra mat at (provide the link)
The mat is more comfortable to sleep on when it is covered with a cotton sheet or put mat in a sleeve provided. A cotton sheet/sleeve also prevents body sweat from triggering the alarm.
Wipe the plastic mat with a damp cloth and then clean dry with a cotton towel. The mat can be reused immediately. Do not place or submerge in water..
Share your thoughts!
Let us know what you think...