Smart Bedwetting Alarm
$120.99
In Stock. Qualifies for FREE SHIPPING.
An alarm with a brain, the Smart Bedwetting Alarm™ is designed to stop bedwetting in deep sleepers and children.
Alarm unit automatically cycles through 8 alert tones to avoid 'Auditory Accommodation' (i.e. getting used to one tone)
Strong Hold™ unisex sensor rapidly detects urine and awakens your child in seconds
Complimentary interchangeable face stickers change the look of your alarm to keep your child motivated throughout the treatment process
Small and portable bedwetting alarm unit is microprocessor controlled which makes it Smart. Includes 1 year manufacturer's warranty
| | | |
| --- | --- | --- |
| Recommended for: | Children | Deep Sleepers |

Play Alert Tones

Why buy from us
Wake Up Dry, Feel Confident™ with the Smart Bedwetting Alarm. This one of a kind Bedwetting Alarm with its 'Patented Technology' can stop bedwetting in weeks.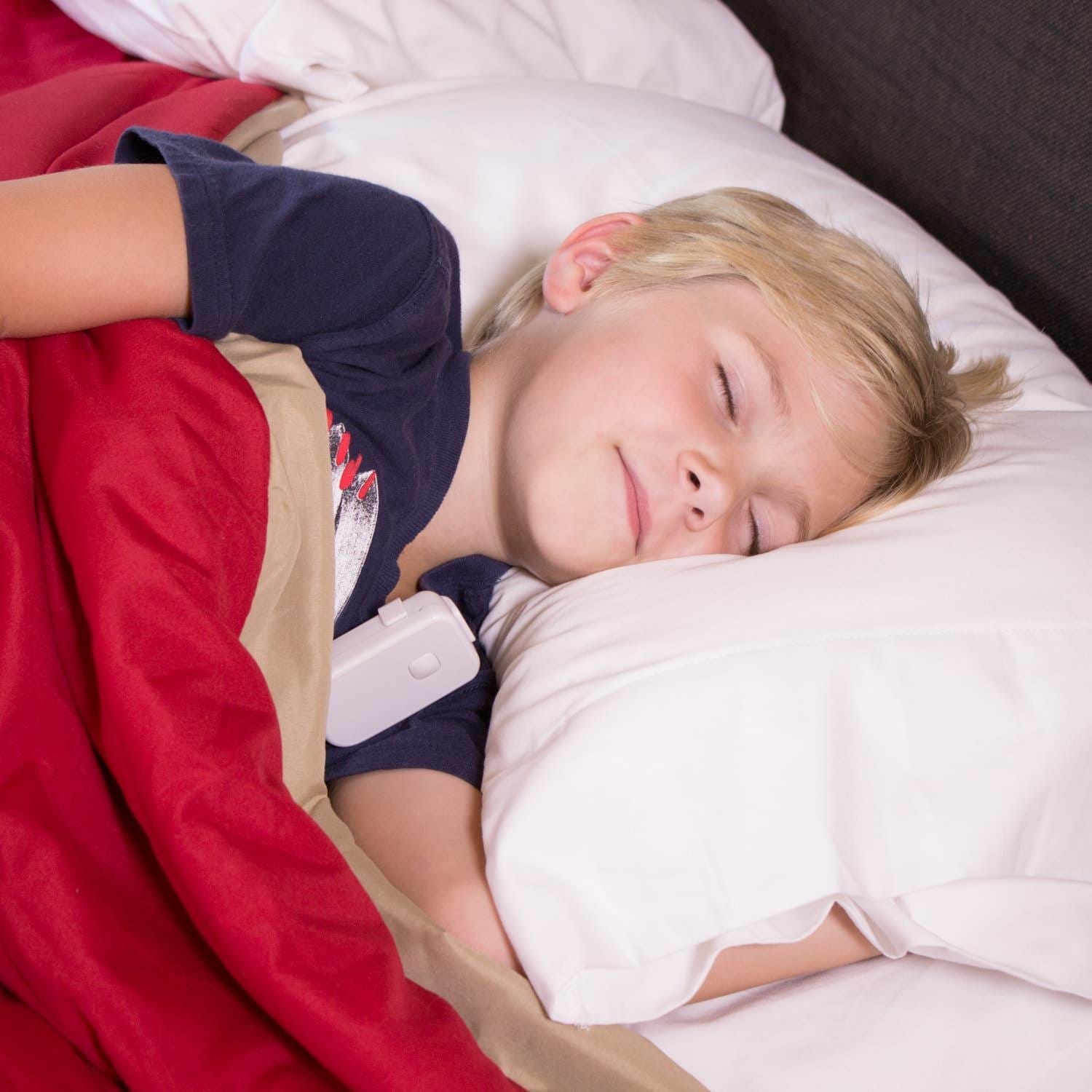 Child Friendly Alarm Suitable for children ages 5 and older. Smart bedwetting alarms stop bedwetting the fun way. Slim, sleek and elegant, Smart is a quality product meticulously put together for perfection with the highest quality. This bedwetting alarm is recommended for children and deep sleepers for use at home and on the go. The discreet functionality of this alarm makes it versatile. Contents provided in the box are everything you need to complete a successful treatment.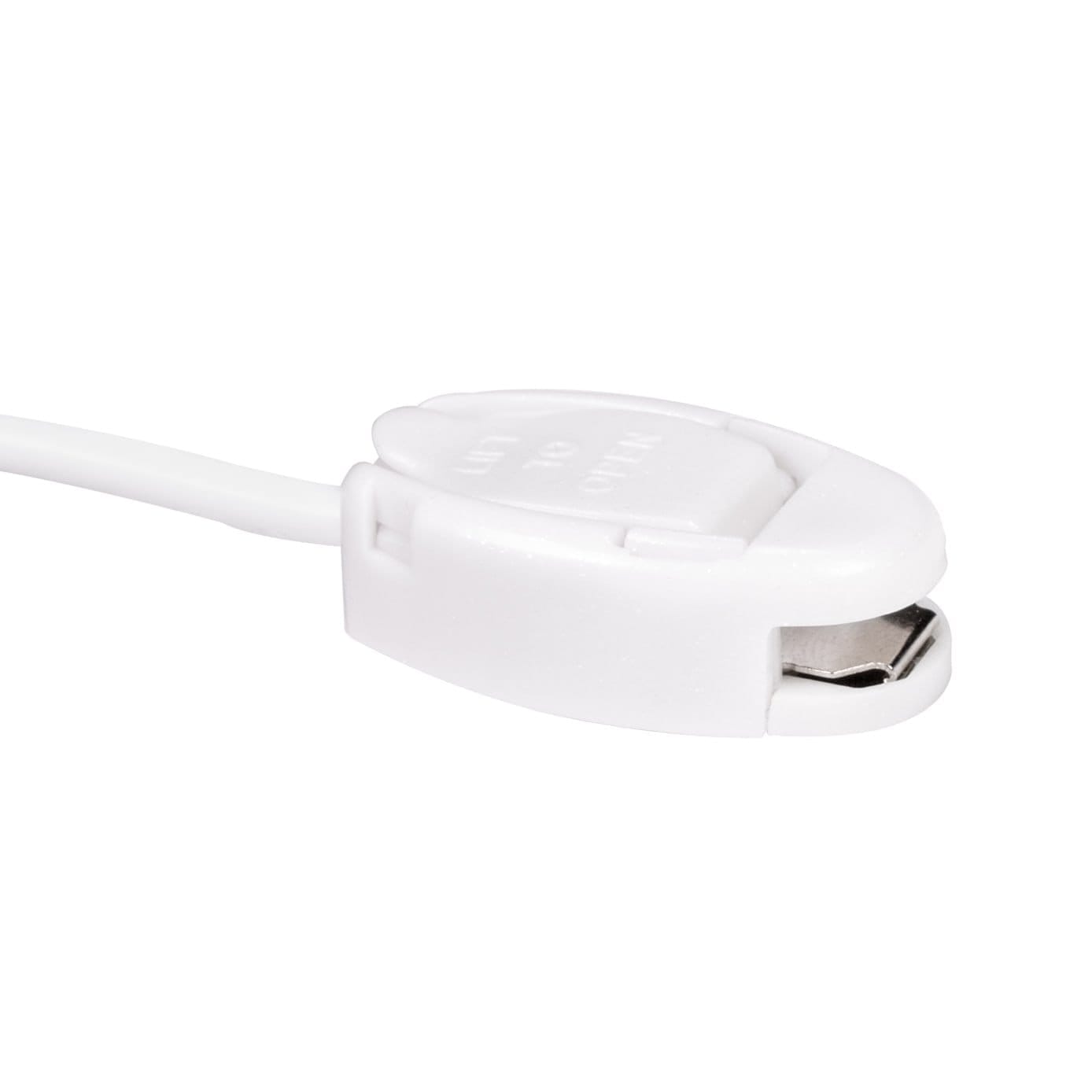 Innovative Strong Hold SensorThe Strong Hold™ sensor has a large urine detection area that detects the first drop of urine. This sensor grips to the underwear with a tight hold. This ensures the sensor is in place and will not accidentally come out at night so you never have to worry about missing a bedwetting event. The small and compact design will not poke children and will provide maximum comfort at night.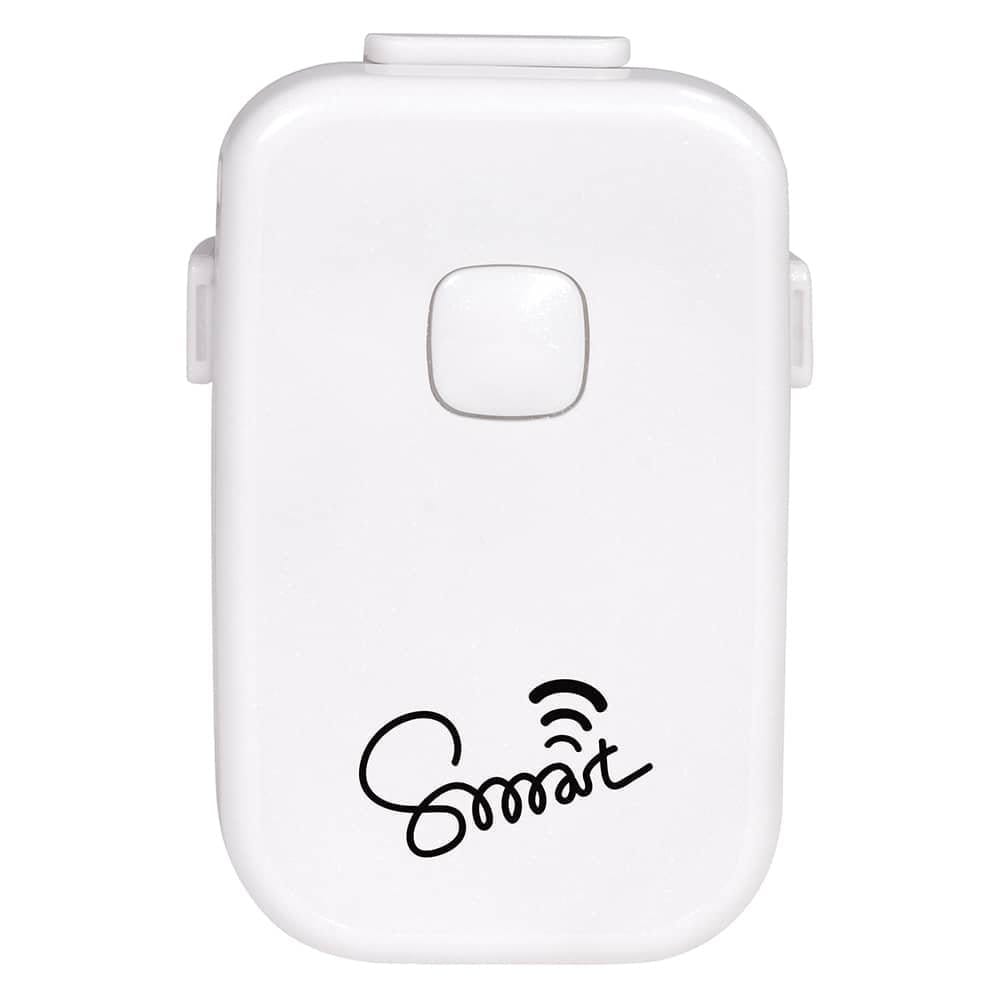 3 Mode Alarm – Sound Light-VibrationSmart Bedwetting Alarms are designed to stop bedwetting the  effective way. This alarm is designed for children, especially heavy sleepers. Powered with 8 loud tones, bright light and strong vibrations, this bedwetting alarm will help wake children upon detecting the first drops of urine. Children can select from three modes of operation – sound and vibration, sound only and vibration only (discreet modes is available for events such as camps and sleepovers).
Smart MicroprocessorThe Smart Bedwetting Alarm is powered by a small and powerful microprocessor with complex algorithms which does two important things. First it alerts your child with sound-light-vibration alerts on detecting urine and second, it ensures a safe treatment regimen.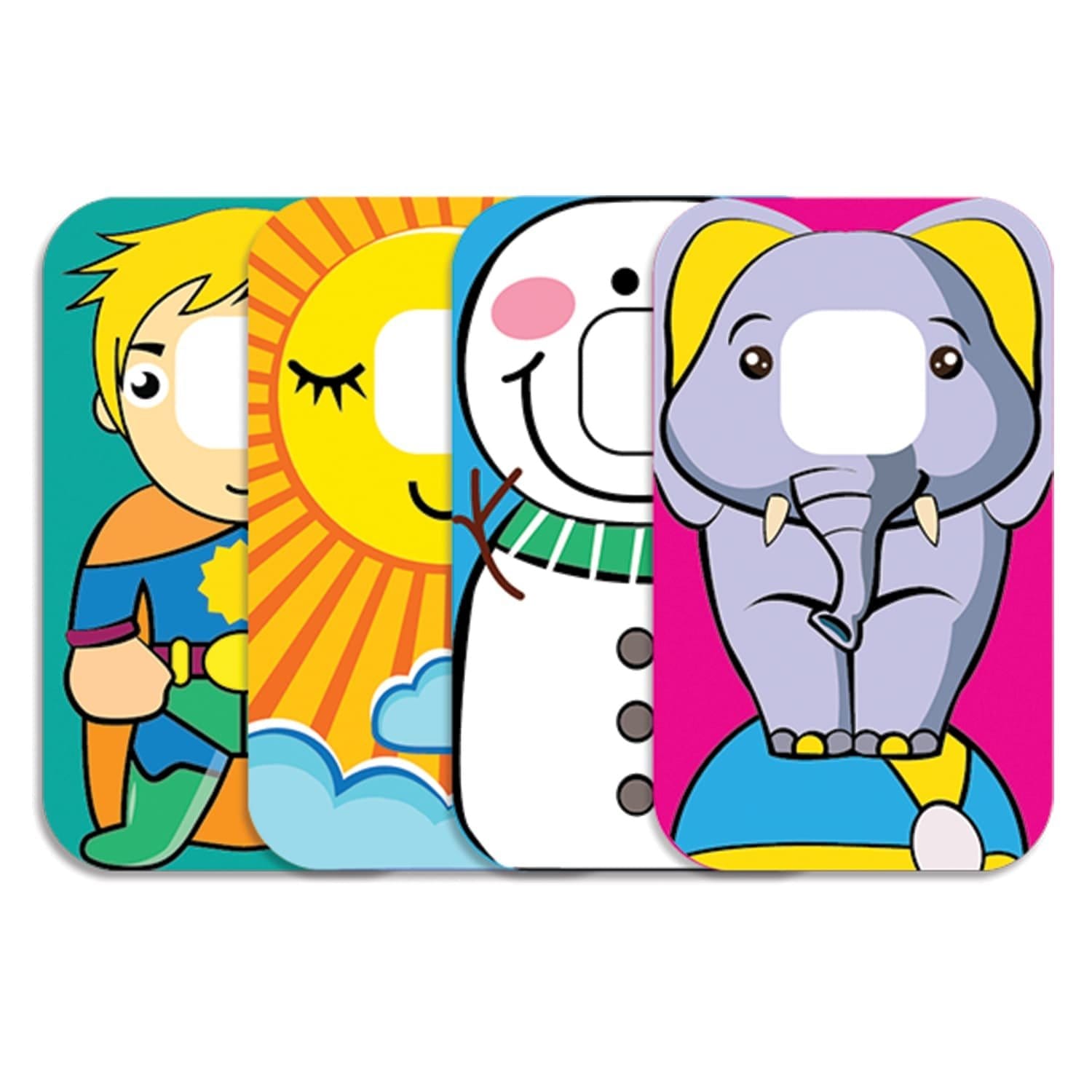 Interchangeable Face StickersKeep your child motivated by changing the look of the Smart alarm when needed. The Smart Bedwetting Alarm comes with 4 free stickers which can be changed when needed. Simply peel a sticker and place it on your Smart Bedwetting Alarm and you have a new look. Children will love the alarm and training your child will be a fun and painless experience.

Box ContentsSmart bedwetting alarm unit, Strong hold sensor, Snap-on clip, 2 AAA batteries, Stickers and Reward system

Wake Up Dry, Feel Confident™ with the Smart Bedwetting Alarm. This one of a kind Bedwetting Alarm with its 'Patented Technology' can help stop bedwetting in weeks.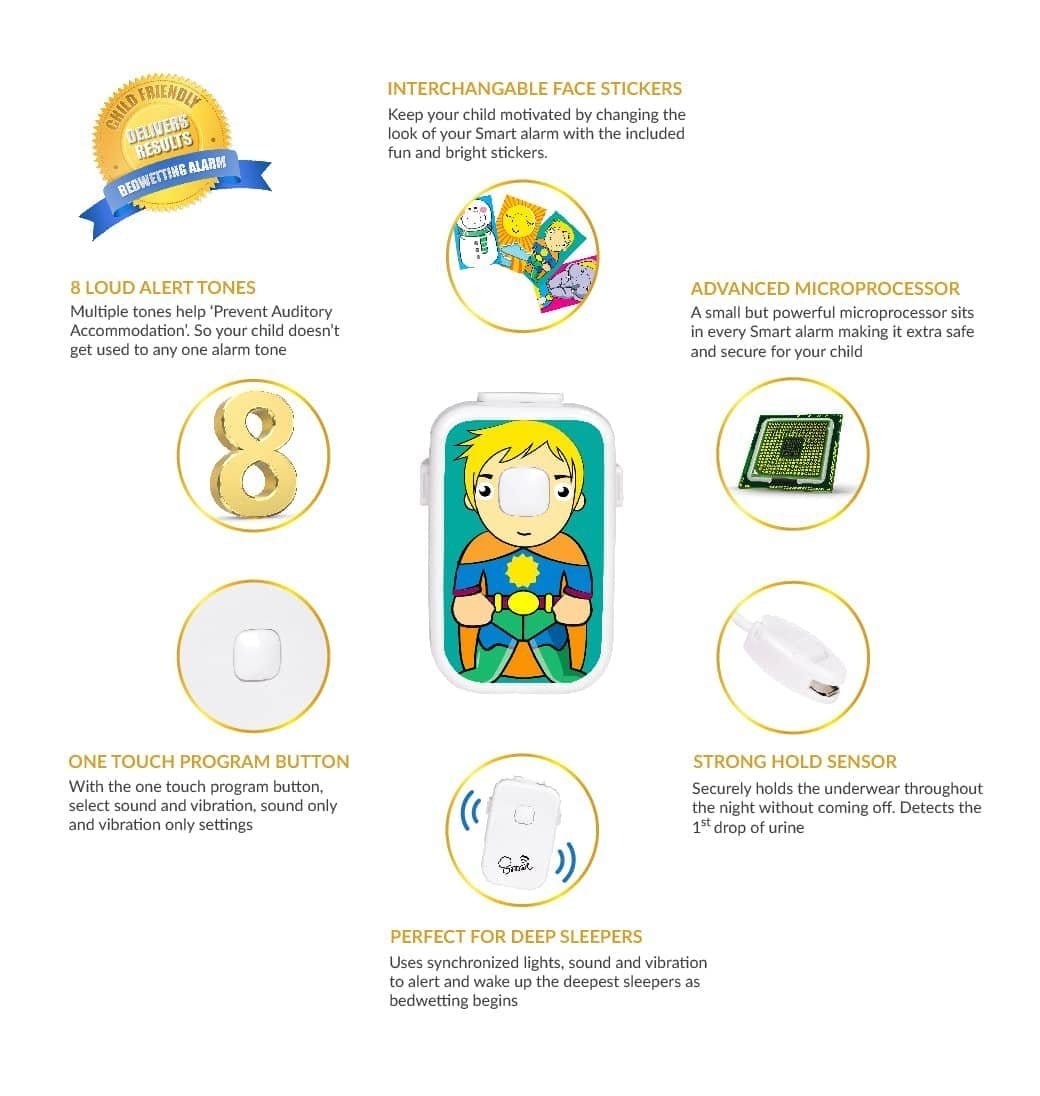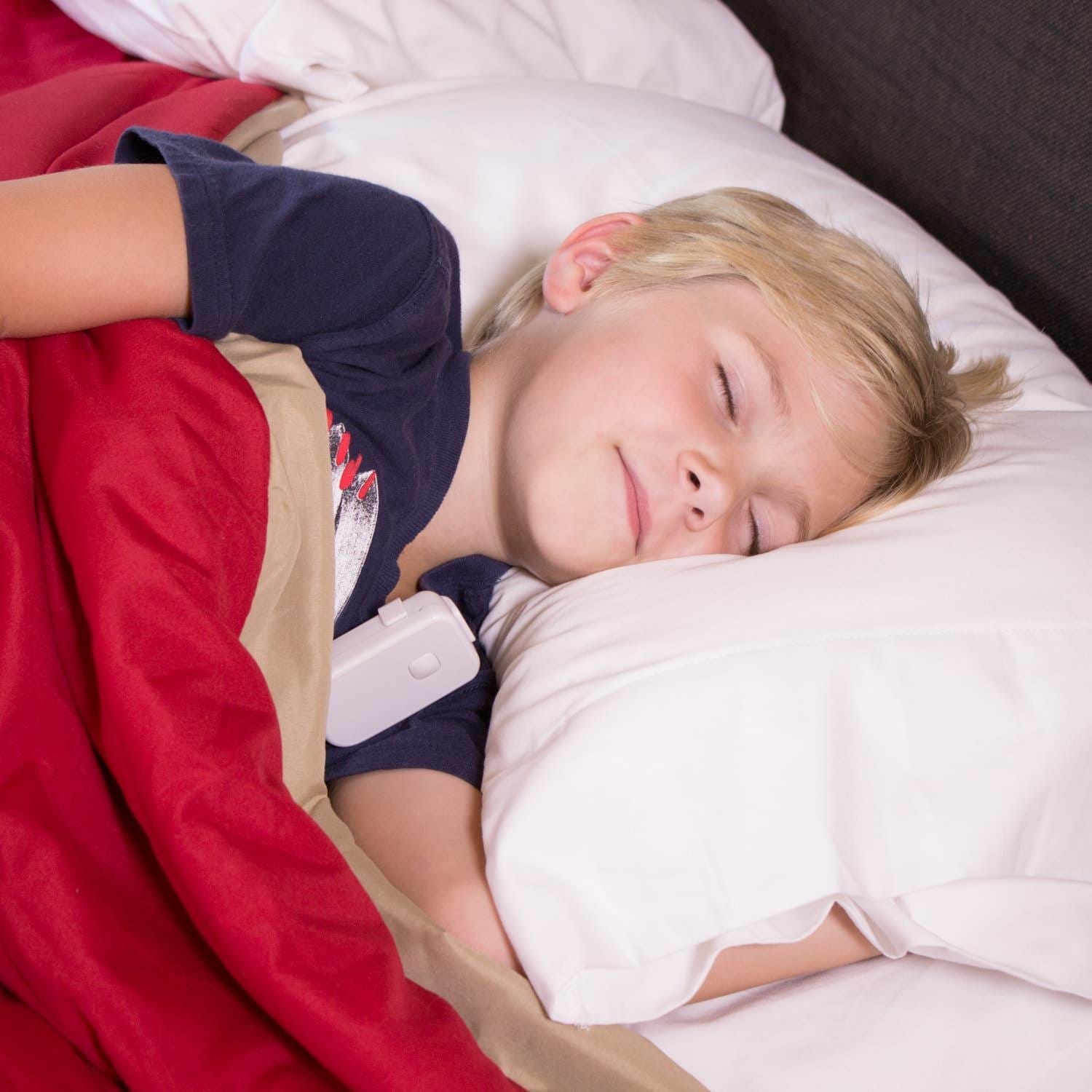 Easy to Set Up
Attach the sensor to the outside of your child's underwear. Place the alarm unit on the pajama top attach on your child's upper arm with a
comfy armband
for added comfort.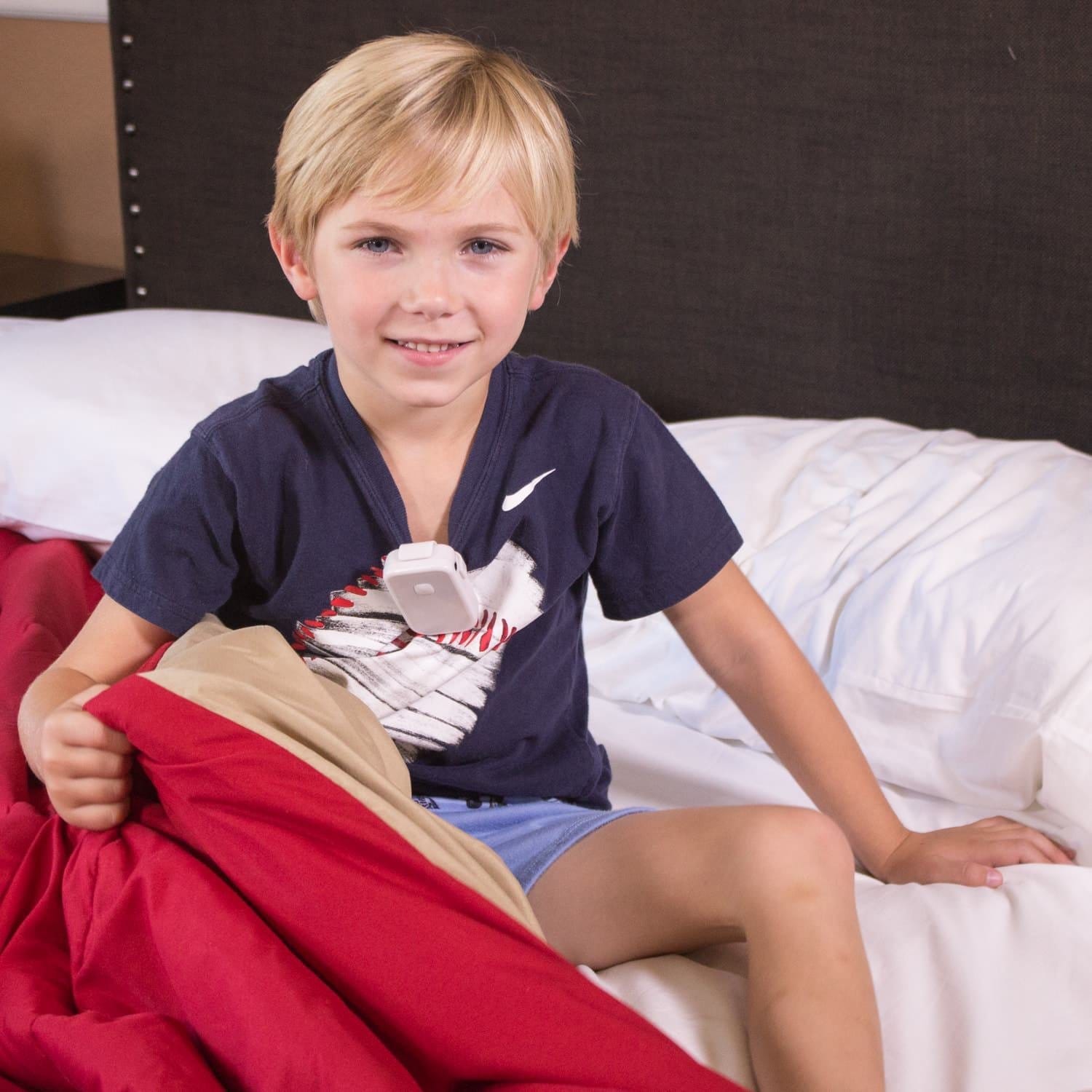 Wakes up the Deepest Sleeper
Our patent pending technology helps detect the first drop of urine. Upon detection the alarm triggers with loud sounds, bright lights and strong vibration to ensure your child wakes up sooner.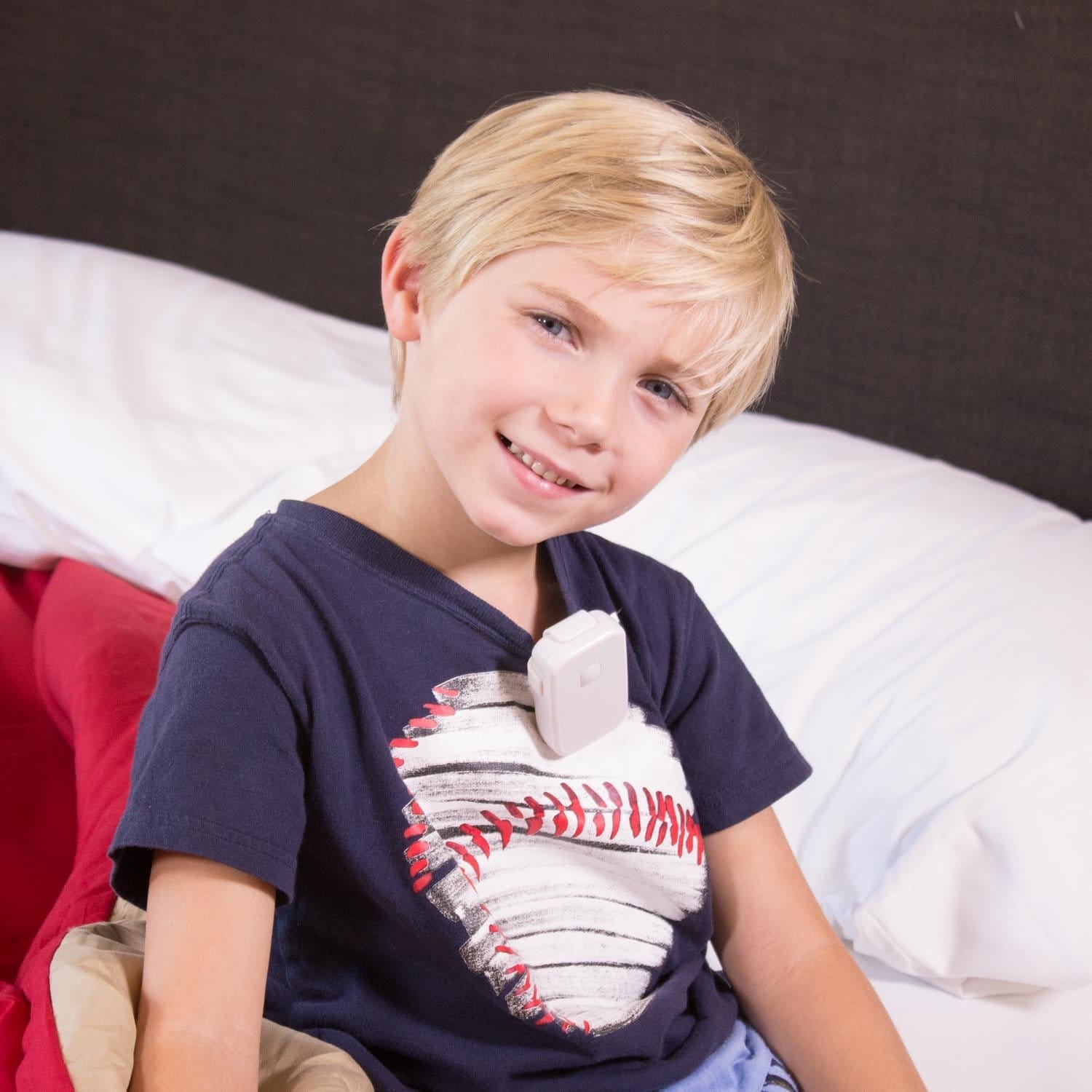 Stops Bedwetting Permanently
In a few weeks, your child becomes conditioned to recognize the need to empty the bladder at night and learns to stay dry permanently.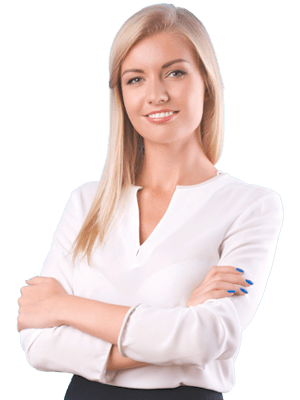 Smart™ Bedwetting Alarms are great for children and deep sleepers. We recommend this alarm for children ages 5 and older. Over time, children may get disheartened or may lost interest in the bedwetting treatment. However Smart bedwetting alarm solves this, the smart way! With bright and colorful face stickers, children can customize the look of the alarm as and when they need to. Every Smart alarm comes with a link to a downloadable progress chart to make tracking your child's progress fun and rewarding.
Unlike some traditional clip sensors which may come off at night, the Smart alarms strong hold sensor securely stays attached at night. Even if children move, toss and turn in bed, the sensor will not come off. This sensor has a large urine detection area ensuring that a bedwetting event is never missed.
You can save time and money with this brilliantly designed child friendly alarm by stopping bedwetting permanently. A one-time purchase of this alarm can save up to $500 a year on costly training pants or diapers. Durable last long batteries are included with this alarm.
Smart alarms can be attached to a pajama top with a snap-on clip (included), however for added comfort we recommended the use of the Comfy-Armband™ which can be purchased separately. Call our toll free number at (800)230-6775 to order over the phone now.
Manufacturer
Theos Medical Systems
Alarm Type
8 Tones, Strong Vibration and Bright Light
Sensor Type
Strong Hold Sensor with Large Urine Detection Area
Alarm Dimension (Approx)
Alarm unit – 2.6″ x 1.6″ x 0.8″
Sensor Dimension (Approx)
26.5" long cord. Sensor Dimensions – 1.2″ x 0.6″ x 0.4″
Batteries
2 AAA Batteries (included)
Product Series
TSV50W Series
Color
Pearl
Special Instructions
As per instructions, rinse the sensor under water with lever open after every bedwetting accident. Gently clean with cloth and let it air dry.
Mobile App
Coming Soon
Warranty
1 year manufacturers limited warranty on Alarm Unit, 90 days manufacturers limited warranty on Sensor
Customer Support
Email, Phone, or Live Chat with a Bedwetting Specialist
Order by Phone
Help placing an order, with a live representative. Call (800)230-6775
For hygienic reasons, it is always recommended to use a new sensor for each child to be treated. Sensors come in contact with urine and not cleaning them properly may cause issues. Spare sensors are available in the Accessory section.
Each Smart Bedwetting Alarm comes with 4 interchangeable stickers. At this time, there are no additional designs in the stickers.
When not in use, disconnect the alarm unit from the sensor and store them botn in a cool dry place. If using an armband, store the alarm unit in the armband. Disconnecting the sensor from the alarm unit ensures that the batteries will last longer.
Share your thoughts!
Let us know what you think...