Bedwetting Children & Vacations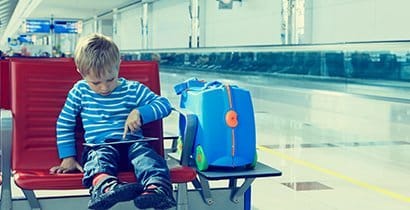 Camps and Overnight
The thought of an adventurous camp or fun-filled sleepover at a friend's or cousin's house can brighten up any child's face. But for a young bedwetter, that happiness comes mixed with worry. Well, here are some suggestions that can offer some respite and ensure a welcoming experience for your child.
Disposable Underpants: Pack a few of the disposable underpants that can seamlessly fit under your child's pajamas. If your child is worried about the sound the underpants might make if he or she moves around in sleep , simply have him or her wear lined sweat pants on top of the underpants.
Disposing the Underpants: Pack a plastic bag with the sleeping bag. Your child can simply store used underpants in the bag, and roll it with the sleeping bad or keep in the overnight bag, and no one would ever know!
Disposable Bed Mats: Pack a few disposable bed mats such as GoodNites that stick on top of fitted sheet and protects the mattress in case your child has an accident. Your child can simply toss and trash the mat in case of an accident without feeling embarrassed.
Waterproof Sleeping Bag Liners: Place a waterproof liner inside the sleeping bag. The linear will prevent the urine to seeping into the sleep bag by creating a barrier between your child and the top of the bag.
Speak to the Host Parent: If your child is going for a sleepover to a friend's place tell the host parent about your child's bedwetting problem (but first check with your child before sharing any information) and ask for a discreet place where he or she can change and dispose off their underpants or bed mats.
Consult the Camp Counselors: Usually, when signing up their kids for a camp, parents fill out forms detailing medical information and camper's profile. Mention your child's bedwetting problem and speak to the camp counselors personally inform them of the challenge
Medication: Consult your child's doctor, pack a medicated rash cream and few medicines that can help in controlling the amount of urine your child produces during his or her sleep. Ask the doctor if you could start the routine a few days in advance to make sure that medicine works.
Even if you do use medicines, it's a good idea to still pack disposable underpants and bed mats.
Now, stop worrying about bedwetting and let your child experience the thrills and joy of overnight stays, camps, sleepover, slumber party and more!!

Traveling With Bedwetters
Traveling opens a whole new universe for kids. So, if you have a bed wetting child don't wait for him or her to outgrow it. Simply pack right, pack discreet, and hit the road. Well, if you are wondering how you can do all this, here are a few simple tips.
What to pack before you leave…
Washable Waterproof Bedding : If you have laundry options pack a washable waterproof bedding overlay like the ultra, reusable Chummie Bamboo Waterproof Overlay that can be placed on top of the sheet and removed next morning.
Disposable Mats: You can also try large absorbent mats such as GoodNites (Note: make GoodNites clickable) that stick on top of fitted sheet and protects the mattress in case your child has an accident. Toss and trash the mat if there is an accident, and save your child the embarrassment, and yourself the trouble of scrubbing soiled sheets.
Disposable Undergarments: Talk to your child about wearing disposable undergarments (most look like real undergarments) or pull ups at night. If your child is uncomfortable about wearing these have him or her wear shorts or sweat pants on top for extra privacy. Don't forget to carry a few sealable plastic bags to dispose the soiled undergarments.
Make the Call: If staying at a hotel enquire about laundry facilities. Also ask for a roll-away bed that are available in many hotels for nominal charge. Roll-away bed would give your child a dedicated space and you wouldn't have to worry about spoiling a full mattress.
Medicines: Consult your child's doctor and pack a few medicines that can help in controlling the amount of urine your child produces during his or her sleep. Also, ask your doctor for medicated rash cream, your child might need one.
What to do when on road…
Now, that you are all packed and belted, enjoy the ride, and here are a few more tips that might come handy on road and during your stay.
Take Regular Stops: Stop every couple of hours and let your bed wetting child use the restrooms a few times during the journey.
Make Extra Bathroom Trips: Even if you don't follow this ritual at a home, have your child use the restroom a several times before going to the bed. Your young bed wetting child might think you are driving him or her nuts. But if you are parent isn't that the reaction you get for most things in life? So, just coax your child a little and have him or her go a few extra times.
Keep Fresh Clothes Ready: Keep a pair of fresh clothes at an arm's reach. In case your child has an accident he or she can change in middle of the night, without waking anyone up!
Reach your destination safely. Click pictures and build memories, and hopefully these tips will make traveling easier for your family.