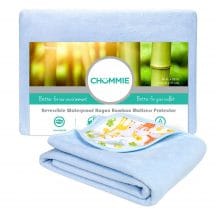 These are great and worth buying!
February 02, 2017
These have been a heaven send!!! I used to buy disposable potty pads for my son. IThese are great; Use and then just throw them in the wash - easy! I've probably washed mine at least 20 times - they really hold up. So worth the price.
Very comfortable. Highly recommend it.
September 15, 2016
Great product. I like that you can't even tell that it is on the bed. A lot of other mattress covers feel like plastic and this one doesn't at all. Washes well too.
Great Product
September 09, 2016
This product has saved my mattress from odors and moisture. Works great and fits my mattress nicely. Easy to wash and put on.
Love love love them
September 04, 2016
I am very pleased with this cover so far. Goes on easily, covers well and doesn't crinkle. I would definitely purchase it again.
Not noisy, good purchase
August 27, 2016
None of that crinkly noise, this pad added a nice layer of protection to the bed. Thanks to the company.
Perfect
August 16, 2016
This is a great product - its way easier to put on than many and offers a really nice protection. Especially important if you're investing in a new and/or expensive mattress.
Best quality pad found so far
August 07, 2016
Had tried many but not one has such good feel and easy to wash. Quality product. Best mattress pad ever
Get this and save your mattress!
August 02, 2016
Good feeling, decent quality, second buy of the same product
So soft he loves it
July 14, 2016
My 5 year old loves sleeping on it. He likes the patterns and it absorbs a lot of urine.
Great protective pad
June 15, 2016
I was happy with the quality and size of this product. It is very useful to protect the furniture too. In fact, I think I'm going to purchase more as car seat protectors.