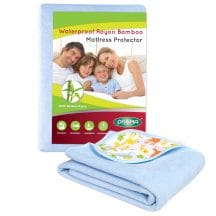 They work so well!! Very absorbent. Fast drying.
January 30, 2017
Well made and very absorbent. Washes well and dries fast. I have been using them for my boy for few months and wash them daily. Still like new. They seem more absorbent when you lent them air dry but I have thrown them in the dryer when in a rush and they still do well.
Excellent Waterproof Pad
September 16, 2016
These pads are top quality at a great price. Keeps my mother's mattress protected from nighttime accidents, large sized too.
Perfect for use with baby
September 07, 2016
My 4 year old has been sleeping on it since she was born. It is comfortable to sleep on. I bought two so when there's an accident, I can just swap it for a clean one. A must have for any young baby/child-especially when co sleeping
Large Absorbent Fibers
September 02, 2016
These pads are such a blessing, when it comes to keeping the rest of the bedding underneath dry. We keep several on hand and they save us a lot of extra work.
Great for bedwettwers!
August 30, 2016
Bought this for a 6 year old bed wetter. Works flawlessly and washes beautifully in hot water and hot dryer. Much better than washing a huge mattress pad every night. Seems to be completely waterproof. I put it under the sheet, which helps it stay in place much better.
Better than expected...
August 25, 2016
Great product. I use it for my 8 year old. Easy to wash and dry too.
Outstanding Value!
August 09, 2016
Quick ship and good quality - just right!!
I recommend this product
July 30, 2016
Excellent product. Made with quality materials, great construction. Made to last. Does the job better than I hoped.
Five Stars
July 19, 2016
Excellent product. Just what I needed
Excellent for all liquid-proof needs
July 05, 2016
Excellent liquid proof pad. This pad is great for keeping the bed nice and dry. It gets washed at least 3 times a week.