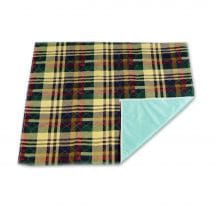 Checkered Waterproof Mattress Pad
Get maximum comfort without compromising absorbency with the checkered washable waterproof mattress pad. Premium high quality reusable washable bed pad comes with a vinyl knit waterproof barrier which More..
Great for protecting your couch from kids
February 15, 2017
Best cover I have purchased for my couch. I now have 3. We have older kids who sometimes leak a little. These covers are waterproof, stay in place and fit great. They have also stood up well to washing and drying. Highly recommend!
Love these for potty training toddler
December 27, 2016
I have 4 of these for our newly potty trained toddler. These are the perfect size, comfortable, waterproof and washable to keep stains off Bed. They keep the bed dry and wash nicely. Shipped quickly as well very pleased.
The best bed pad on the market!
December 22, 2016
I have been looking for a mattress protector for a while now. I am 100% satisfied with the quality and function. They not only protect my bed since they are stain free they look fresh and new even after many uses. I will be purchasing a few more for my other mattresses in my house. Thanks!
Great product for protecting mattress!
November 19, 2016
Very soft, nice quality. Fits perfect on my bed have been using this for 6 months. Very comfortable.
They work so well!! Very absorbent. Fast drying.
October 30, 2016
These are so great! My dog loves it. Use every day. Well made and very absorbent. Washes well and dries fast. I have been using them for my puppy for few months and wash them daily. Still like new. They seem more absorbent when you lent them air dry but I have thrown them in the dryer when in a rush and they still do well. Have used it at friend's houses & no pee on their floor. I would call them the perfect puppy pads.
These are great and worth buying!
October 22, 2016
These have been a heaven send!!! I used to buy disposable potty pads for my English Bulldogs. If it's raining or too hot, they refuse to go outside, even for a moment. These are great; Use and then just throw them in the wash - easy! I've probably washed mine at least 20 times - they really hold up. So worth the price. They met my expectations in every way. Makes my life easier.
These pads are the best I have used to date.
October 06, 2016
Excellent so far- had about a month. Stands up to almost daily washing. Very soft, perfect. Having 2 means one is getting washed while the other is in use. Excellent product for my puppy- I plan to purchase some for the rescue to use at the shelter. Wish I would have tried these before wasting money on so many others that didn't work nearly as well. These absorb great. They are the perfect for my pet.
Yes, it's waterproof !
September 16, 2016
This mattress protector has been put to the ultimate tests...a potty training toddler with the stomach flu! Let me just say, my mattress is still spotless :)
Does its job...
September 07, 2016
This mattress cover is wonderful. I love that it protects bed from liquid spills. For my purposes it works really well and I would recommend the cover to anyone looking for a cleaner bed.
This is the mattress pad you want
September 04, 2016
This pad is high quality, comfortable, doesn't move AT ALL, doesn't feel clammy, and is silent. I have been using this for over two months and it is so much better quality than the one I had. So happy with my purchase!