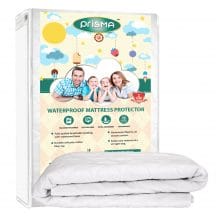 Fabulous
February 19, 2017
I love this waterproof bedding for------ -Two variety of sizes to choose from -Washes and dry's well -Feels durable and comfortable -Exactly as described and pictured
This product is terrific!! I plan on ordering one more
February 18, 2017
This is a great product. Very heavy and durable. Great size for our leather couch. Stays on better than normal mats and a relief to know its waterproof for the kids!
Completely waterproof!
February 11, 2017
We love these for kids who sometimes have accidents during the night. These works like a dream. They are large and cover quite a bit of the bed. I have found them to be completely waterproof. A true bed-saver. I would most definitely buy them again!
They are great as a protective pad
February 01, 2017
They saved our bed when our son was incontinent... truly a great product. They said that the product absorbed something like 9 cups... I was skeptical but these absorbed everything and didn't run off the product... excellent product
These are awesome.
January 24, 2017
My 5-year-old has special needs and these are perfect for protecting our bed. They are so soft after washing and great to sleep on them. These are awesome.
So far so good!!
January 14, 2017
Great product for adults, good as described. I am buying more again.
Worth every penny!
January 06, 2017
A must buy for potty training!!! I used this for my son whom I am potty training and saved myself a headache of washing his bedding every night it is comfortable nice and soft and absorbs a lot !!
We love these covers
January 02, 2017
I absolutely love this pad! NO moisture gets through. Use them on our toddler's bed and soon on our newborn's. They are definitely waterproof, and clean and dry fast.
Useful - I like it
December 26, 2016
Works great! I use for the toddler's night time accidents. I stopped having to worry about the bed being soaked. These have kept the bed dry and super convenient to wash, dry and put back on.
Five Stars
December 18, 2016
We are using these for bed-wetting under our littles and they are great. They wash well and, after months of use and washing, have maintained their waterproofing.