Prisma Deluxe Quilted Waterproof Mattress Pad
$19.99 – $21.99
In Stock. Ships within 24 hours.
A favorite among families, the Prisma Quilted Reusable Waterproof Mattress Pad is built for providing comfort and convenience for families without the high expense of washable bed pads
The waterproof mattress pad with large urine absorption capacity comes in a selection of with or without wings (tuck-ins) for individuals who move at night when in bed. Wings secure the protective waterproof bedding to the bed at night
Lightweight and easily foldable, the waterproof mattress pad can be easily carried by families on vacations and trips. So you can protect your bed from accidental liquid spills, urine and sweat no matter where you are
Outer layer is soft polyester and the inner layers are made from layers of cotton fibers which can hold up to 6 (Six) cups of liquid which is more than what adult bladders hold and nearly twice the capacity of other washable bed pads
Machine washable and dryer friendly. Can withstand 300 washes. Ideal for frequent bedwetters making it ideal for daily use
When ordering, choose the correct size with wings or without wings. 34″ x 36″ beddings fit twin size mattress. With Wings overlays feature two 18″ tuck-ins on either side to hold bedding in place.
Prisma Quilted Waterproof Mattress Pads are strong and durable. This waterproof mattress pad is designed for even the toughest of bedwetting stains and soils. Set up is easy. Simply place the washable bed pad on the area to be covered and secure the wings (tuck-ins) in place (if there). That's is. No more struggling with heavy and bulky sheets.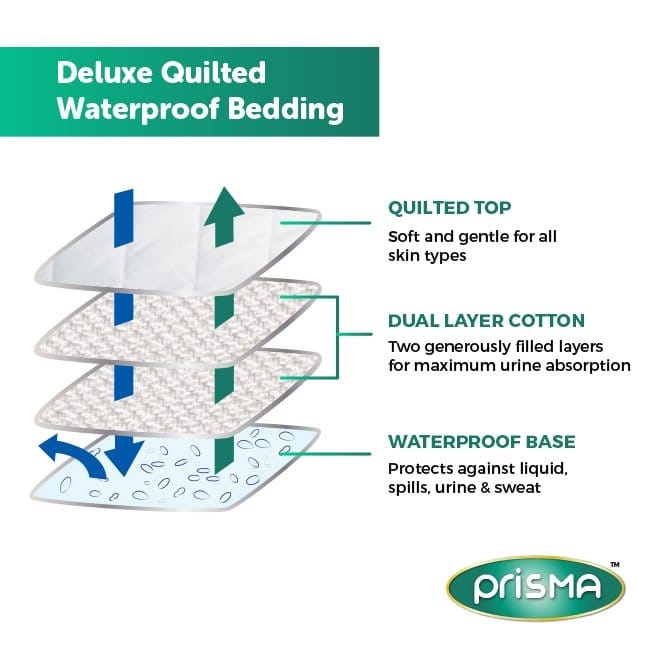 Every Prisma Quilted Waterproof Mattress Pad comes with three layers of waterproof protection so you need not worry about stains from urine, accidental liquid spills or sweat. The fluffy to touch quilted upper layer provides enhanced comfort. The middle layers are generously filled with cotton fibers and the bottom layer is a non-skid waterproof base. Suitable for bedwetting children, teens and adults, the bedding comes with tuck-ins (wings) for those who move a lot at night. Plus it's easy to roll up and store away when not in use thereby saving space. Prisma Quilted Waterproof Mattress Pad comes in two styles—with wings and without wings. The "With Wings" selection includes two 18 inch wing flaps on either side for extra secure grip. Each of these washable bed pad consists of soft cotton fabric which is machine washable for up to 300 times and dryer friendly.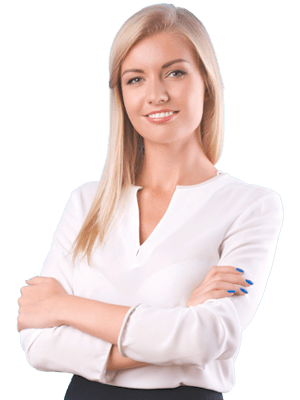 Prisma Quilted Waterproof Mattress Pad comes with generous overfilled cotton layers to maximum absorption and comfort. The washable bed pad can absorb up to 6 cups of urine making them ideal for bedwetting children, teens and adults.
Lightweight and durable, Prisma waterproof mattress pads can be rolled up and stowed away when not in use. They can also be carried on vacations, camps and sleepovers making them a bedwetters best friend.
Prisma Quilted Waterproof Mattress Pads are available with wings and without wings. The 18 inch wings (tuck-ins) can be securely placed between the mattress so the overlay doesn't move at night.
Prisma Quilted Waterproof Mattress Pads are built the highest standards of quality and customer satisfaction. Prisma protective waterproof bedding comes with a 1-year manufacturer's warranty.
Color
White
Dimensions (Approx)
36 inches X 34 inches – No Wings
34 inches x 36 inches – With 18″ wings
Material
Poly cotton top and waterproof base
Absorbency Level
High
Breathable
Yes
Special Instructions
Do not use bleach or fabric softeners. Machine wash warm, tumble dry low heat and remove promptly.
Warranty
1 year manufacturers limited warranty
Customer Support
Email, Phone or Live Chat with a Bedwetting Specialist
Ordering over the Phone
Help placing an order, with a live representative. Call (800)230-6775
Share your thoughts!
Let us know what you think...