Chummie Deluxe Quilted Protective Waterproof Bedding
$17.99 – $22.99
In Stock. Ships within 24 hours.
Available with wing and without wings. This ultra-thin, large, Chummie Quilted Reusable Protective Waterproof Bedding is designed for maximum comfort for both bedwetting children and adults.
Perfect for vacations, travels and sleepovers. This overlay protects the bed from urine, sweat and other such liquid spills
Cotton fibers can absorb and hold up to 6 (Six) cups of liquid for maximum protection which is almost twice the capacity of a most overlays and much more than what an adult bladder can hold
Top layer is comprised of soft cotton that provides extra softness and comfort for a goodnight sleep. The super-absorbent top layer absorbs the fluid while the waterproof bedding bottom provides a barrier against urine leaks keeping the surface of the bed dry.
This overlay can be machine washed up to 300 times and dries quickly for immediate reuse.
When ordering, choose the correct size with wings or without wings.
34″ x 36″ beddings fit twin size mattress. 54″ x 36″ beddings fit full size mattress.
With Wings overlays feature two 18″ tuck-ins on either side to hold bedding in place.
The Chummie Quilted Reusable Protective Waterproof Bedding is extremely easy to setup. Simply place the overlay protector over a bed-sheet quilt or any other cover for a more comfortable and relaxed feeling.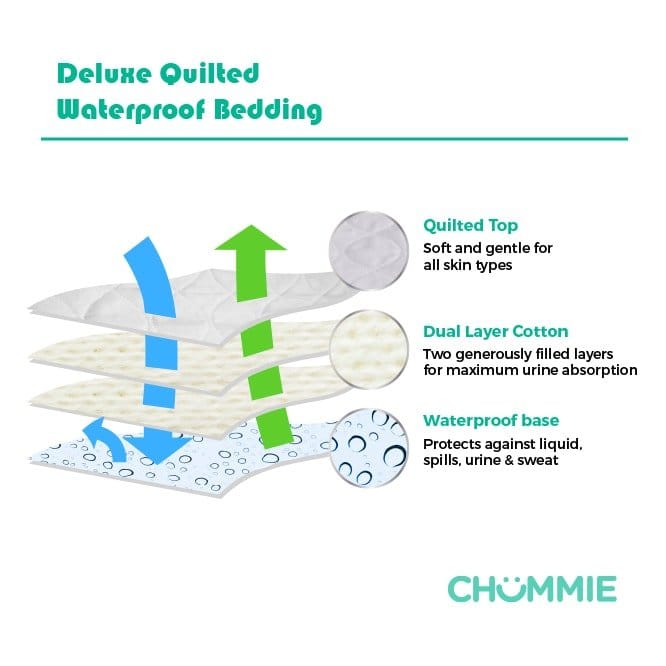 This waterproof bed pad overlay feature three layers of protection from bedwetting accidents, perspiration leaks and other liquid spills. The soft quilted upper layer for comfort, absorbent inner layer absorbs fluids such as urine and waterproof non-slip base that keeps the bed surface dry. Designed specifically to offer comfort to both incontinent adults and bedwetting children alike.
The anti-slip base keeps the pad in one place all night for an uninterrupted sleep that works perfectly for sleepers that move a lot at night. This ultra-thin bed pad can be easily rolled up for space saving and storage.
The Chummie Quilted Reusable Protective Waterproof Bedding features two different styles—with wings and without wings. The "With Wings" selection includes two 18 inch wing flaps on either side for extra secure grip. Each of these overlays is consists of soft cotton fabric which is machine washable for up to 300 times and dryer friendly.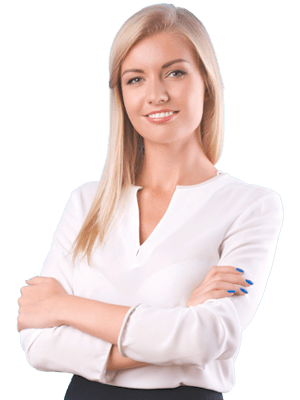 Chummie Quilted Reusable Waterproof Bedding is perfect for bedwetting children, incontinent adults, teens and those who perspire heavily. Comprised of three layers this overlay is super absorbent and holds up to 6 cups of liquid to provide a dry bed.
This breathable pad prevents unwanted urine and sweat leaks from seeping into your bedding. We also recommend this as an excellent solution to tackle bedwetting on camps, trips and sleepovers.
Chummie Quilted Reusable Waterproof Bedding offers both with wings and without wings selection to suit your unique needs. The tuck-ins are designed for a twin bed only. This ultra-thin bed pad can be easily rolled up for long term storage when not in use.
Good for your wallet, good for the environment. The Chummie Quilted Reusable Waterproof Bedding is marketed by Chummie, a leader in bedwetting and toilet training products. All Chummie products ensure the highest standards of quality and customer satisfaction backed by our support team.
Color
White
Dimensions (Approx)
36 inches X 34 inches or 54 inches X 36 inches – No Wings
34 inches x 36 inches or 54 inches x 36 inches – With 18″ wings
Material
Poly cotton top and waterproof base
Absorbency Level
High
Breathable
Yes
Special Instructions
Do not use bleach or fabric softeners. Machine wash warm, tumble dry low heat and remove promptly.
Warranty
1 year manufacturers limited warranty
Customer Support
Email, Phone or Live Chat with a Bedwetting Specialist
Ordering over the Phone
Help placing an order, with a live representative. Call (800) 230-6775
Share your thoughts!
Let us know what you think...