NewU Bedwetting Alarm Watch Kit
$94.99
In Stock. Save Up to $25 instantly.
Get FREE USB Nightlight + FREE SHIPPING.
This Watch Kit includes the NewU Bedwetting Alarm and VibraLITE Mini vibrating reminder watch
A combination of daytime and nighttime monitoring of bedwetting events this money saving kit
NewU Enuresis alarm has 8 different alert tones, strong vibration and bright light to ensure the children not getting used to the same tone and gets up even if they are deep sleepers.
The advance unisex strong hold sensor detects the first drop of urine and builds the brain bladder connection and trains the child when they need to wake up.
Compact, comfortable and lightweight portable bed wetting alarm is microprocessor controlled that ensure the utmost safety for your child! Includes 1-year manufacturer's warranty
VibraLITE Mini alerts your child to ensure they use the bathroom during the daytime or playtime.
| | | |
| --- | --- | --- |
| Recommended for: | Children | Deep Sleepers |

Play Alert Tones

Why buy from us

NewU Bedwetting Alarm Watch Kit is the combination of; the pee alarm unit for nighttime bedwetting treatment and the VibraLITE mini watch for daytime monitoring. Together, these systems can monitor your child round the clock and ensure the best treatment for maximum effectiveness, plus you will save when you order this watch kit and save time rather than shopping for each item separately.
Contents
1. NewU Bedwetting Alarm
2. VibraLITE Mini Vibrating Reminder Watches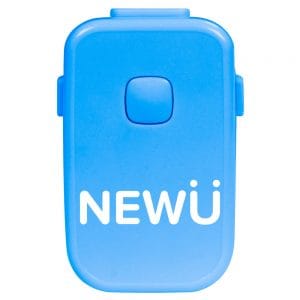 Choose Joy, Be DryNewU Bedwetting Alarm with its patented technology can stop nighttime bedwetting in few weeks and help your child reach his goal of being dry, confident and comfortable like any other child. NewU enuresis alarm often features on our Specialists Best Choice for low budget, easy of use, functionality and quality of manufacturing. Light weight, slim and elegant pee alarm weighs only 1-lb is ideal for children ages 5 and up.  Alarm is Powered with 8 loud alert tones, bright light and vibration. Children can select from three modes of operation – sound and vibration, sound only and vibration only (discreet modes is available for events such as camps and sleepovers).
NewU bed wetting alarm for children comes with the technology Strong Hold sensor that detects urine at the very first drop.  Early urine detection is important feature in alerting your child so they can wake up the moment as soon as they start bedwetting and can go to the bathroom to finish urinating. Alarm is attached to pajama top while the small sensor is clipped to outside of underwear. Bedwetting alarms are clinically proven to stop bedwetting in boys and girls, and deep sleeper children in weeks without medication. They help build the brain-bladder connection and alert the bedwetter when wetting occurs.  Clean the sensor by rinsing under tap water for 2 to 3 seconds after each bedwetting accident to maximize your success. New U alarm for incontinence Includes 1-year manufacturer's warranty.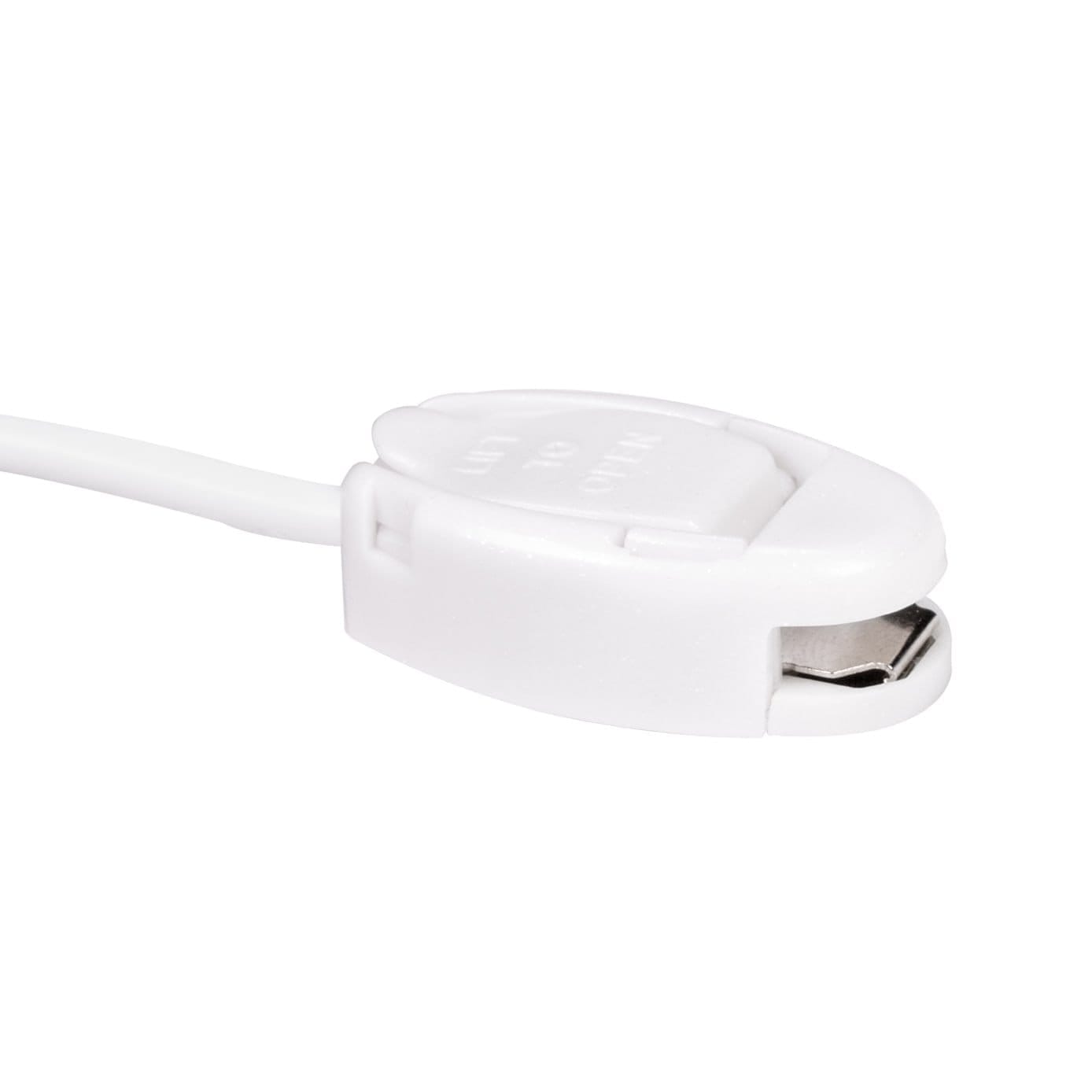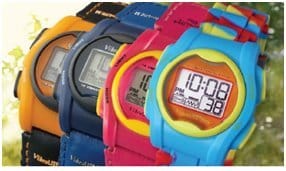 Vibrating Daytime Bedwetting Watch
This VibraLITE Mini vibrating reminder watch is designed for maximum comfort to monitor daytime bedwetting in children. This is also an excellent potty training watch. The continuous reminder on these watches ensure that your child remembers to use the bathroom and potty train. The beautiful color selection makes these watches cute and trendy at the same time.
This watch allows the user to set up to 12 different daily alarms with a 20 second duration each. The user can optionally set a countdown timer using hours, minutes and seconds.
Setting up the watch is extremely quick and simple and can be done in just a few seconds. All programmed alert times can be turned on or off as desired and the icons on the watch help confirm desired settings.
The lockout feature on this watch prevents your child from tampering with any programmed settings to ensure they are alerted to use the bathroom.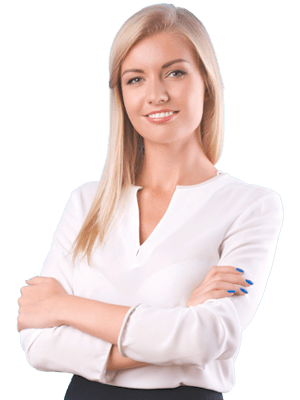 Our bedwetting specialists has put together the NewU Bedwetting Alarm Watch Kit to take care of day and nighttime bedwetting. The alarm trains the brain to help overcome nighttime bedwetting while the vibrating watch is a great aid to train children to use the bathroom at set time intervals when he is in school or at play. This budget friendly alarm is a great choice for stopping bedwetting in children and deep sleepers as it comes equipped with 8 loud alert tones, strong vibration and light.
You no longer have to change the alert tone on their bedwetting alarm as this enuresis alarm selects a new tone automatically after each bedwetting accident so your child won't get used to one tone.
This bedwetting alarm uses the all new strong hold sensor that has large urine detection area and detects the first drop of urine without getting disconnected from the underwear.
The vibralite mini watch can be set at regular intervals according to your child's need to make them sure to use the bathroom. The combination of the NewU Bed wetting Alarm and VibraLITE Mini vibrating reminder watch will help children establish the connection between the brain and bladder and train them to overcome bedwetting effectively.
Benefits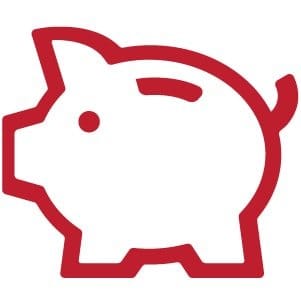 Huge Savings
Save big when you shop our kits. Each of our kits allows you more as compared to purchasing each item separately. Do the math; you will know we are right!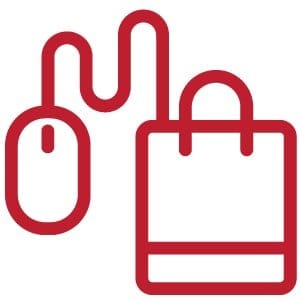 Super Convenient
Our kits are designed exclusively to meet your child's needs. All kits include most essential items that you will need to start and complete treatment.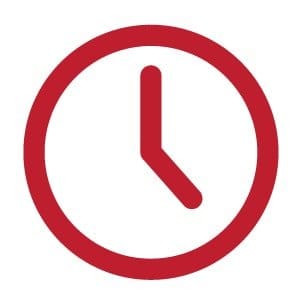 Save Time
We know your time is precious, so we've personalized our kits for you. We have made dealing with bedwetting simple with our handpicked kits.
| | |
| --- | --- |
| Contents | Alarm and VibraLITE Mini watch |
Bedwetting Alarm
Alarm Type
8 Tones, Strong Vibration and Bright Light
Sensor Type
Strong Hold Sensor with Large Urine Detection Area
Alarm Dimension
Alarm unit – 2.6″ x 1.6″ x 0.8″
Sensor Dimension
29.5" long cord. Sensor Dimensions – 1.2″ x 0.6″ x 0.4″
Alarm Special Instructions
As per instructions, rinse the sensor under water with lever open after every bedwetting accident. Gently clean with cloth and let it air dry.
Mobile App
Coming Soon
Warranty
1 year manufacturers limited warranty on Alarm Unit
90 days manufacturers limited warranty on Sensor
VibraLITE Mini
Preset Alarms
Up to 12 daily alarms
Alarm Duration
20 seconds
Countdown Timer
Automatic reset, Up to 23 hours 59 mins and 59 seconds
Alarm Type
Vibration, Sound or both
Backlight
Push button with 3 second duration
Watch Size (L X W X D)
38.5 X 30.5 X 12.3
Watch Weight
0.9 ounces
Wrist Size
Color: Black. Approx size: 4-1/2″ – 7-3/8″ (11.5cm – 18.5cm)
Color: Purple & White Floral. Approx size: 4-3/4″ – 7-1/4″ (12cm – 18cm)
Color: Multicolored, White. Approx size: 5″ – 7-3/8″ (12.7cm – 18.5cm)
Color: Blue, Black & Orange, Pink & White. Approx Size: 5-1/2″ – 7-1/4″ (14cm – 18cm)
Water Resistance
Not recommended for use during showering or swimming
Warranty
1 Year manufactures limited warranty
Customer Support
Email, Phone or Live Chat with a Bedwetting Specialist
Order by Phone
Help placing an order, with a live representative. Call (800) 230-6775
Share your thoughts!
Let us know what you think...