Bedwetting Diapers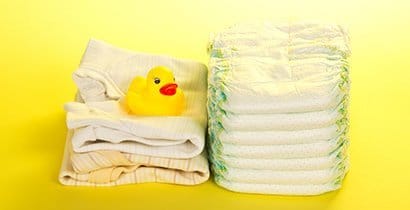 Bedwetting Diapers
Bedwetting is a problem in children, teens and adults. It affects self-esteem and can be a primary reason for social isolation. Children and adults deal with bedwetting differently. Children deal with the problem by discussing with parents and family members. They get parental support and the chances of tacking bedwetting are increased at a young age. For adult bed wetters, the situation is difficult because they not only suffer from lack of bladder control, but they also feel embarrassed. However, a strong support system is needed to boost their self-esteem and motivate children and adults to stay dry. Diapers are a convenient way to ensure that those suffering from incontinence remain dry.
Bedwetting Diapers for Children & Teens
There are two types of disposable diapers for children and teens. The first type of diapers are for children in potty training. The second type of diapers are for children over the age of 4, who are wetting the bed. Diapers for children under the age of 4 require the diaper to be changed often. Bedwetting diapers are better for overnight protection because they are more absorbent. More absorbency allows the diaper to hold more urine without leakage. Bedwetting diapers also differ from potty training diapers in that they are gender specific. Bedwetting diapers provide extra protections in areas that are more likely to get wet. Potty training diapers are made the same in all genders.
You can shop a variety of bedwetting diapers for children in our store. The two most popular bedwetting diapers for children which we recommend are GoodNites Boys Nighttime Underwear and GoodNites Girls Nighttime Underwear.
In addition to disposable diapers, there are also cloth diapers. Some cloth diapers are designed specifically for bedwetters as they are have extra padding and are waterproof. These cloth diapers are designed to protect against leaks and provide comfort through the night when the user is asleep.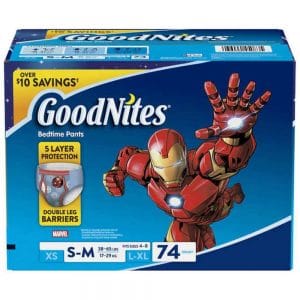 GOODNITES BOYS NIGHTTIME UNDERWEAR
BEST SELLING
I absolutely love this bedwetting diaper.
$39.99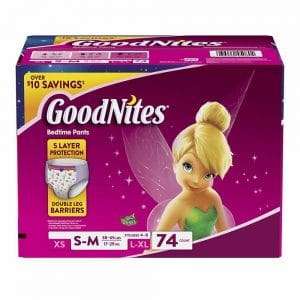 GOODNITES GIRLS NIGHTTIME UNDERWEAR
BEST VALUE
Couldn't have asked for anything better.
$39.99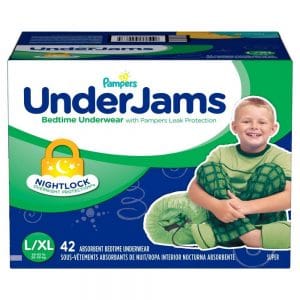 PAMPERS UNDERJAMS BOYS UNDERWEAR
MOST POPULAR
My son has not wet the bed in months.
$29.99
Bedwetting Diapers for Adults
When adults have bladder problems a convenient way to help them stay dry at night is a diaper. There are a few different types of diapers for adults depending on the type of coverage that they need. There are two main types of adult diapers: pull-ups and female menstrual pads styles. Both types provide discretion and comfort. Pull-up style diapers are made with maximum absorbency for nighttime and daytime usages. Pull-up style diapers also provide more coverage because adults are able to hold more urine. Female menstrual style pads are also called Boosters. These booster pads are slim and unnoticeable. They are ideal for daytime bladder control protection as they provide light absorbency.
You can shop a variety of bedwetting diapers for adults in our store. The two most popular bedwetting diapers for men which we recommend are Depend FIT-FLEX Underwear for Men and Depend Guards for Men Maximum Absorbency. For women, the two most popular bedwetting diapers in our store are Depend Night Defense Underwear For Women and Depend Silhouette Maximum Absorbency.

Bedwetting Diapers Important Considerations
When deciding on a diaper a parents can get super swamped between deciding to buy disposable or cloth diapers. Here we have made the list so that it is easy for you to decide which ones to buy.
Disposable Bedwetting Diapers
Pros
 Convenient
 Easy to use
 Available at most retailers
 Easy while traveling
 Eco –friendly diapers are also available
 Different sizes easily available to suit the growing children's needs
 More absorbent than cloth diapers
Cons
 Allergic reaction to plastic
 Harmful preservatives might not be healthy for children
 Harmful to the environment
 Expensive to maintain in the long run
May cause diaper rash
Cloth Bedwetting Diapers
Pros
 More soothing on a baby's bottom
 Cheaper
 Gives the appearance of regular underwear so kids feel more grown up and are ready for normal underpants sooner
 There are services that cater to washing and delivering clean diapers to your door every week, so you don't have to clean every day
 Better for the environment because there is no waste to throw
Cons
 They are not travel friendly
 Costly
 Needs to be changed more frequently
May cause diaper rash
Adult Bedwetting Diapers
Purchasing diapers for grownups is a different challenge altogether. Not only do they have greater bowel and bladder production, the factor of appearance is also taken into consideration. Following is an assessment of all the adult incontinence products.
Waterproof briefs look like regular underwear. They are absorbent and made of nylon. However they do not provide protection against very high incontinence. They are washable and reusable.
 Booster pads are like feminine menstrual pads put inside underwear to absorb urine and feces. They can be disposed of easily and are quite discreet. Booster pads need to be frequently changed because they have a light absorbency.
 Adult pull-up style diapers are the ones with the highest level of absorbency and are useful for adults who have a low level of bladder control.