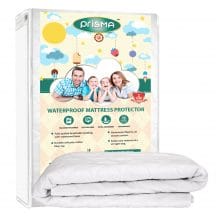 Very satisfied
July 08, 2016
Great quality. Arrived as promised. Good price. Great service. Very functional.
Works great
June 24, 2016
This waterproof overlay is soft enough that my son lay directly on it. This overlay even is extremely wet still does not leak through to the sheet. This pad works so well I ordered another one.
Works Well
June 11, 2016
They are great! They are big enough to cover the area needed for protection.
Absorbent, water proof!
June 05, 2016
Perfect for elderly mother....so much easier than changing bed from mattress pad to top sheet when occasional accidents happen. Washes up and dries quickly.
No more frustration
June 01, 2016
I use this as cover for my mother who is incontinent. Wash in warm water and tumble dry. Works perfect.
Five star.
May 26, 2016
Nice protection for under sheet.
Great money saver
May 17, 2016
Saving us tons of money over disposables.
Awesome
May 05, 2016
They are awesome. My son has bedwetting issue these bed pads protects his mattress and make clean up so much easier.
Get this bedding
April 25, 2016
From a father of 4 who has 4 bedwetting children, all I can say is - get this bedding and get it now. Its just simple commonsense. It kept the bed dry every night till the treatment ended.
Makes middle of night changes easier!
February 14, 2016
I bought two of these for my son with hopes that he stops using a nighttime pull-up and not having to wet the whole bed with a bed wetting accident. This bedding is definitely leakproof. The only con is that even though it says it has an anti-slip backing....that is not the case. I have tried it with jersey sheets, and flannel sheets...but it does move sometimes and get bunched up. So, I do end up having to strip the bed every now and then because the pad moved during the night. If I had it to do over again, I would definitely buy the pad with the tuck-under flaps.